Oftentimes as artisans, we create our little labors of love and then ship them off to their new homes, never seeing them again. Sometimes a collector will tell us that a piece is going into this house or that roombox, but it is left up to our own imaginations to fill in the details. That is why I especially appreciate when an artisan or collector takes the time to send me a photo of the finished dollhouse, roombox, vignette or scene.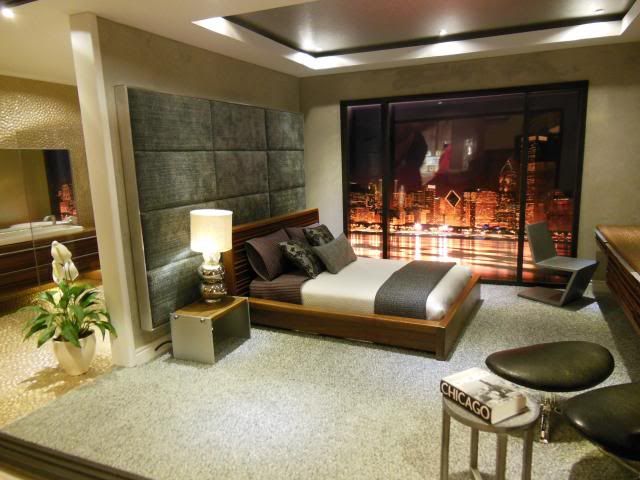 Imagine my surprise -- and pure delight -- when I recently received a message from Paris (
prdminiatures.com
) with the above photos attached. (Photos posted with permission.) This stunningly amazing hotel roombox is the new home for a set of
my rolling luggage
. Wow! I am well pleased that the luggage will be staying in such posh accommodations. (In this case, I wish I'd travelled
with
the luggage. Maybe next time. ;-) )
Paris has a background in full scale design and architecture, talents he now uses to create one of a kind highly realistic miniature scenes that he photographs in such a way it is impossible to distinguish his full scale designs from his miniature ones. In any scale, I love the clean lines and beautiful details of his work. Paris has ordered several more sets of luggage and I very much look forward to seeing where their travels take them to. Hopefully we'll be treated with some more photos to drool over. In the meantime, take a peek at Paris' website. You're going to love what you find there.
*******